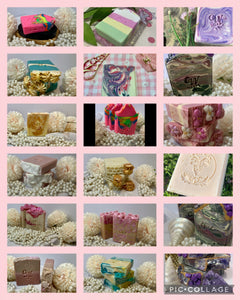 Beautifully fragranced box of scented soaps 
at a reduced price! The more you buy, the bigger discount.

 When we have 1 or 2 soaps in a range left,
this is an ideal time to box them up,
giving you a massive discount,
plus we don't pack these in boxes.
They come totally nude!
We will choose
*5 soaps 
*10 soaps
 to add to your box. These boxes are great.
What a great way to try out a soap that you may not have picked.
Stock up for the year, save on postage fees.
* Includes everyone's favourite bar.

* Plus fantastic value.
* Reduced packaging waste 
The Medium box will contain 3 large bars.
The Large box will contain 6 large bars.
 A great way to keep clean and fresh. Stock up for the year.
All our soaps are handmade. We only use good quality oils in our soap.
Key Ingredients: Extra virgin Olive oil, Avocado Oil, Extra virgin Coconut oil.
Bars are hand cut and can differ slightly in size. Min 100g/ 3.53oz e
Lovely bubbly soaps that will leave you clean and fresh.
To extend the life of your soap, always use a soap rack/scrubbie, which will let it dry out in between use.
Ingredients: Sodium Cocoate, sodium palmate, sodium olivate, sodium ricebranate, glycerine, aqua, sodium avocadoate, parfum, mica, bio degradeable glitter, silk amino acids.
*May contain: please check individual soaps for any allergens.
For external use only. Not to be used around the eyes, mucous membranes or on broken skin. If irritation occurs discontinue use.