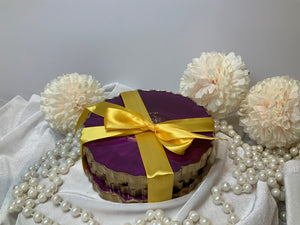 STUNNING RASPBERRY & GOLD, RESIN DRINKS COASTERS WITH GOLD LEAF, & EDGED IN GOLD.
SET OF 4.
All limited edition. Edged in Gold.
A beautiful set of art to give as a gift/ spoil yourself!
Rich Purples, golds and Gold leaf with a tiny bit of sparkle.
Keep out of direct sunlight.
To clean, use a soft cloth with warm water. Do not put in the dishwasher!
Feet are available to purchase in the listings.
The feet will protect your furniture.
 Please email us if you'd like a set making to your specs.
Delivery can be up to 2 weeks